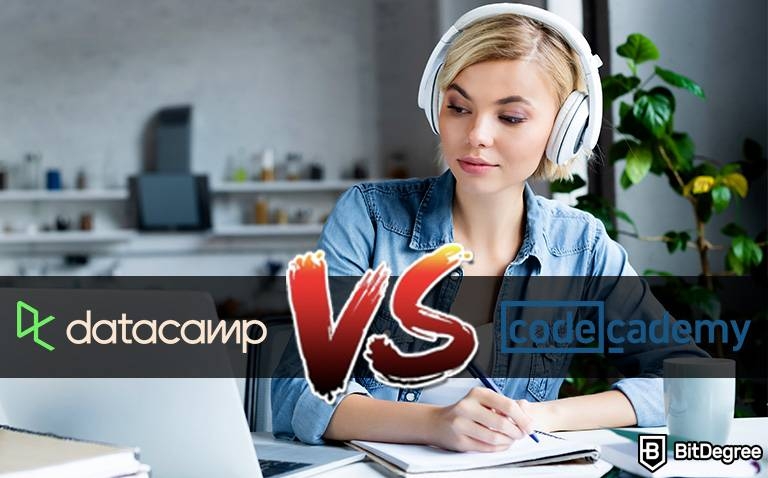 In recent years, coding has essentially become a must-have skill on your CV if you're an industry professional, particularly in the tech field. To help people gain these skills without having to go back to school, many online learning platforms offering programming courses have been launched. In today's DataCamp vs Codecademy comparison, we'll be taking a look at two platforms that offer beginner programmers a space to hone in their coding skills.
DataCamp and Codecademy are two very recognizable names among programming-based online learning platforms, which might make it harder to determine which one is more suitable for you. To help you make the decision, we'll be comparing the two platforms based on specific criteria, like how easy they are for newcomers to navigate, what the course quality is, and how much the service will cost you.
Before we get to the DataCamp vs Codecademy comparison criteria, let's learn a bit about each platform. DataCamp is an online learning platform that focuses on data science and analysis. It was launched in 2013 and is known for its gamified learning environment. Codecademy was founded over a decade ago, in 2011, and offers programming courses for 12 coding languages.
Before we start the Codecademy vs DataCamp show-off in earnest, let's first take a look at our evaluation criteria.
DataCamp vs Codecademy: Comparison Criteria
The first thing we need to establish as we begin our DataCamp vs Codecademy comparison is how the two platforms will be evaluated. No two online learning platforms are the same and may offer different perks for their users. So, to keep things fair, we have established our evaluation criteria.
Latest Udacity Coupon Found:
SAVE 75%
Udacity Black Friday Offer
The best time to save on Udacity courses is now - follow this coupon to access 75% Udacity Black Friday discount on all courses & enjoy top-quality learning for less!
Expiration date : 29/01/2023
3,176 People Used
Only 97 Left
Following our model, we will be analyzing both platforms based on five points which will be explained below one by one. We won't be giving out a numerical grade at the end of all criteria. Instead, based on the information provided, you will be able to make the call easier.
Course Quality & Variety. The quality of the content and materials can make or break your learning experience. Whether you're a complete beginner or dusting off your old skills, you want something suitable to your needs. In this category, we'll be comparing how the Codecademy vs DataCamp courses are reviewed by users and what the course quality is. We'll also turn toward their quantity and take a look at the catalog range to see the variety of options for different learner levels.
Foreign Language Support. This is a feature that can sometimes go overlooked, especially when so many coding and programming resources are available primarily in English. I've put "foreign language" here for emphasis as this criteria of the Codecadamy vs DataCamp comparison isn't concerned with programming languages, like Python or R, but rather with the interface and localization. We'll look at things like website language options and subtitles.
Ease of Use & Accessibility. Education, whether it's traditional or digital, is usually a long-term commitment. So, before you get started, you need to make sure that not only do have your needs met but also navigate the platforms with ease. We'll take a look at how easy the platforms are to navigate and whether DataCamp or Codecademy take your device preferences into account.
Certification. Certificates are the key aim of studying online for many – particularly when they reflect your newly acquired skills. However, some certificates may be seen as having more weight than others, especially when they're accredited. So, we'll take a look at what kind of rewards you receive for completing the courses on DataCamp vs Codecademy for data science.
Pricing. Every point in our evaluation criteria is important, but pricing very likely takes the cake. After all, you probably want a nice balance between quality and affordability. So, we'll see how the DataCamp vs Codecademy payment plans compare, whether you can find any discounts and whether there are some free features available.
Of course, we won't be making the final decision for you. Perhaps we'll find that when it comes to, for example, DataCamp vs Codecademy Python courses, one platform stands out in one aspect, while the other platform has advantages elsewhere. So, the final decision will be yours to make.
DataCamp vs Codecademy: The Comparison
We'll analyze DataCamp vs Codecademy in the same order that the comparison criteria were introduced above.
Course Quality & Variety
Our first point of comparison for this Codecademy vs DataCamp platform battle is the quality of the content that they provide. Quantity can be as important as quality – with both platforms focusing on data science, you may be interested in some niche skills and projects and stray away from the more generic stuff.
So, how do the catalogs of DataCamp vs Codecademy for data science compare?
Well, at first glance, the difference in quantity is actually not very massive. Codecademy offers a catalog of about 250 courses, with more than 60 additional career and skill tracks.
DataCamp users, in the meantime, can access more than 390 courses, as well as over 80 additional projects for practical use of their programming skills. Then, there's the Open Courses category. It provides unofficial courses that aren't listed in the main catalog, as they have been developed and published by other learners on the platform.
If you're a complete beginner and the amount of content overwhelms you, don't fret. Both platforms offer quizzes that help determine the best-recommended course based on your interests and experience.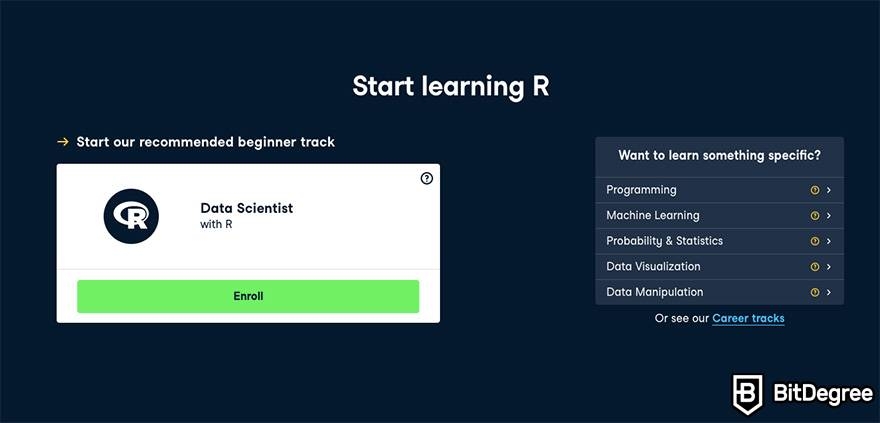 Some of the beginner courses are free. However, Codecademy holds a slight advantage here, as the Free plan offers a broader range of subjects. If you were interested in comparing free DataCamp vs Codecademy Python courses, you'd find that the latter has more options, while DataCamp has six free courses in total.
Both platforms have two types of extended learning programs that are known as paths on Codecademy and tracks on Datacamp – skill and career. The names are self-explanatory. Skills tracks are focused on teaching you how specific programming languages and tools work, while the career paths are oriented towards preparing you for the data science and data analysis fields.
Using the paths, you can steadily work your way up the skill tree and improve your programming abilities without losing momentum. Of course, the learning is not limited to just coding with Python, R, and SQL – the essential holy grail of online learning platforms. You'll also find courses on business intelligence, working with spreadsheets, and other developer tools. So, overall, whether it's on Codecademy or DataCamp, the skill range is quite broad.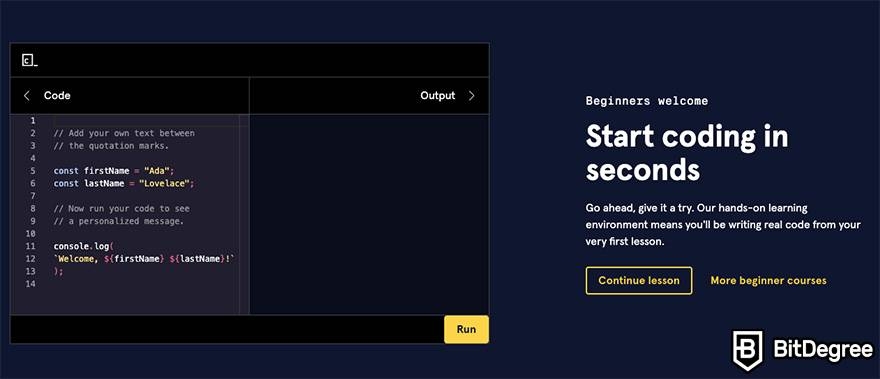 As far as customer reviews are concerned, both platforms have received favorable feedback for content quality. DataCamp Premium and Codecademy Pro, the paid plans of each platform, have been considered a worthwhile investment for their variety, ease of access (something we'll explore more in-depth later), and career prospects.
So, in terms of course quality and variety, the DataCamp vs Codecademy match-up seems to be toe-to-toe. However, if you're interested in not just learning the theory but also working on some projects, DataCamp may offer more opportunities in its catalog range.
Foreign Language Support
Before we take a deeper look into this category, let's get the context in numbers. DataCamp has over 10 million learners in more than 180 countries. Codecademy has been around for four years longer and has four times the number of users – more than 45 million. Naturally, not all these users are going to be native English speakers.
Let's say you're in this demographic. Perhaps reading an article about the platforms themselves – like this one – isn't something that causes you trouble. However, simply reading and actively learning are two different things – taking in the information and then using it for your projects requires a lot more brain power.
So, you might prefer a learning platform that offers foreign language support. Can you find courses on DataCamp vs Codecademy for data science in languages other than English?
Well… Yes and no.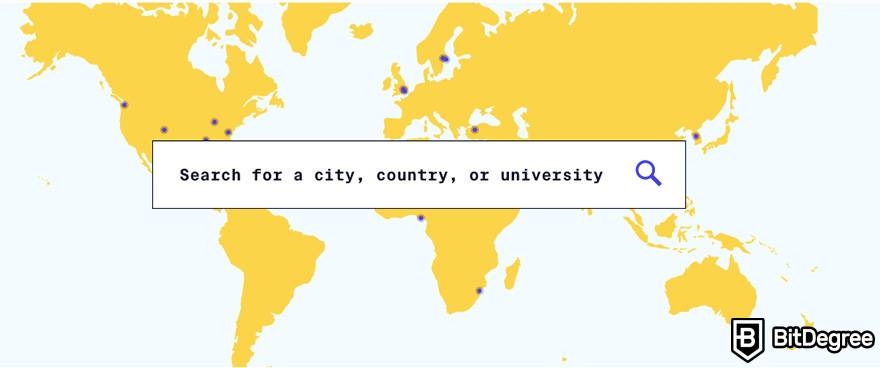 Both platforms are available only in English. That means all the menus, descriptions, and course information will be provided to you as is. The Codecademy team has stated in the Help Center that none of the courses are available in foreign languages and recommends users to study using the Google Chrome browser, which has pre-built machine translation support – not the most ideal solution.
This can be disappointing for prospective students to hear. However, Codecademy hasn't written off content translations or brand-new foreign language lessons completely. According to the team, such features might become available in the future, especially if the customer demand calls for them. You can also join one of the many international chapters and have the support of fellow students.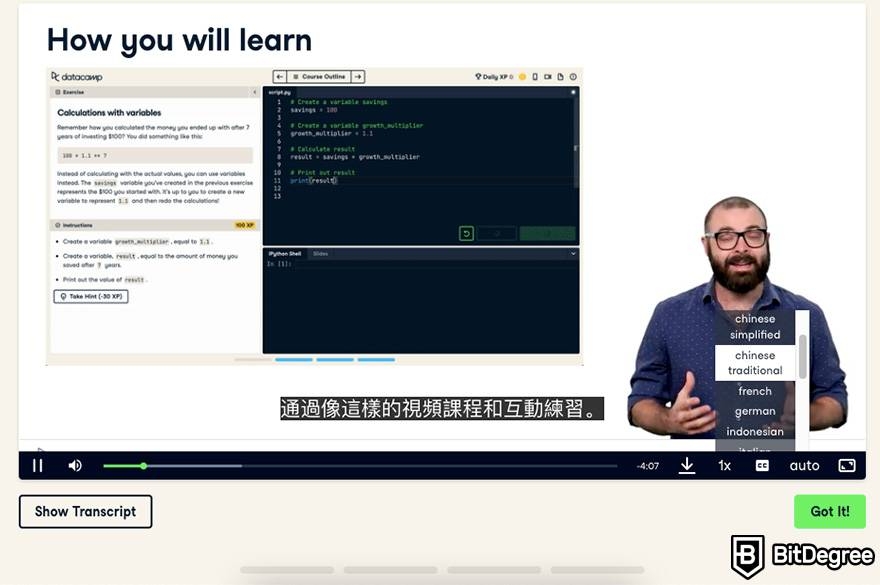 Things are different on DataCamp, though. Although a lot of the learning content, like the interactive tasks and quizzes, is in English, you can actually access the video content with various subtitles. These include languages like Spanish, Arabic, and Japanese.
There's some extra assistance with the DataCamp videos, too. You can find transcripts under each video lesson, so if it helps to follow the text along, you can have it on hand. Although the transcripts are only available in English, they might help you connect the dots in the content.
And remember the Open Courses I mentioned? Well, many of them are available in languages like Italian, German, and Mandarin. They've been developed by DataCamp learners who want to share their skills but understand that English might not be enough to master them, so it's a helpful tool to keep in mind as you're sorting through your options.
As you can see, while both platforms can boast their range of programming languages, when it comes to the ones that we speak daily, the situation is a bit more complicated. There's room to improve on both platforms. Nevertheless, if you're searching for, let's say, DataCamp vs Codecademy SQL courses in Spanish, the former platform will provide you with more support.
Ease of Use and & Accessibility
Having a broad range of courses to choose from can be important. However, if you find yourself unable to navigate your learning materials – or even easily get around the learning platform itself – all those resources become meaningless. So, let's take a look at how DataCamp and Codecademy compare in terms of being user-friendly.
First, let's talk about devices. Where do you spend more of your time? Are you currently reading this DataCamp vs Codecademy comparison article on your desktop, laptop, or perhaps your smartphone? With phones becoming mini-computers in our pockets, you might want to consider how programming works on the smaller screen.
If you're a mobile-heavy user, I have some good news for you. Whether you prefer Codecademy or DataCamp so far, you can download iOS and Android-compatible apps for both. That way, you can keep learning even if you're in a hurry or stuck in your morning commute. DataCamp Premium users are also eligible for additional mobile learning content.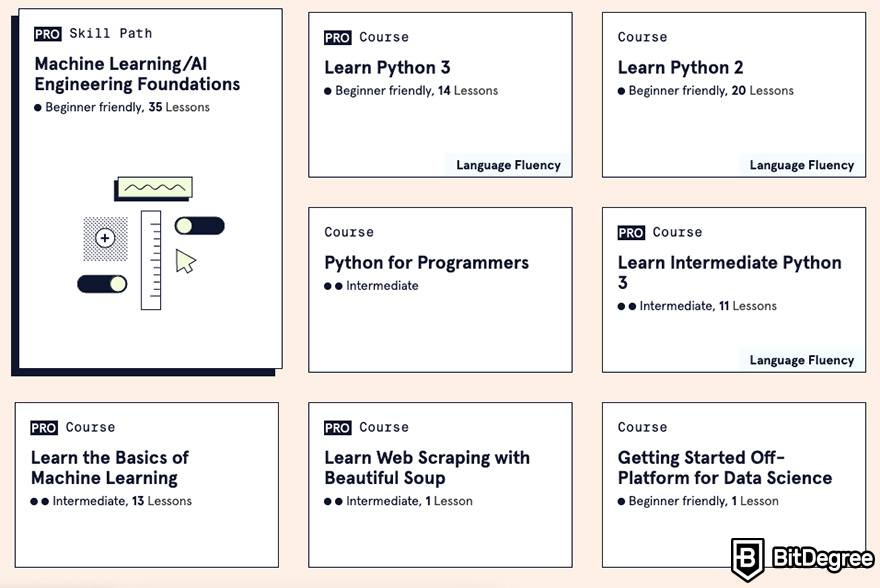 Now, let's turn back to desktop devices. How accessible are the platforms for complete beginners? For starters, both DataCamp and Codecademy employ their own internal learning interfaces. This means that you can create your code without leaving the website or needing to download third-party extensions – it's all in one place.
Both learning environments also offer a good combination of different learning styles, bringing it into a combined audiovisual experience. DataCamp is known for combining its Jupyter Notebook practice space with educational videos and interactive tests, whereas on Codecademy, you'll find videos, downloadable resources, and quizzes.
Let's take a look at how the course previews appear on both platforms.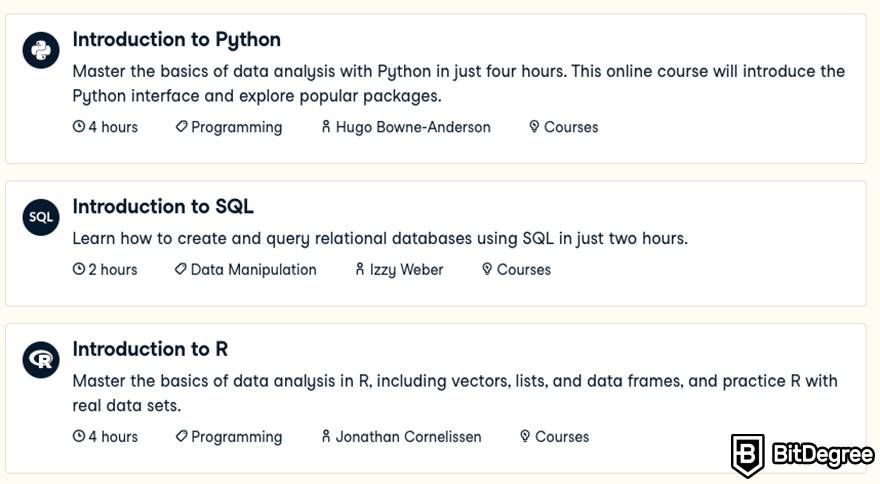 Well, they're both easy to navigate without sacrificing the information they provide at first glance. DataCamp lets you know the general description of the course, like how long it takes to master it and who your instructor is. Codecademy courses let you know what the level and category of the course are, and some paths are even decorated with minimalistic illustrations.
So, as far as accessibility and visual appearance go when it comes to DataCamp vs Codecademy, it might just go down to your personal aesthetic preferences. Both platforms provide great access options for mobile and desktop users.
Certifications
What's something that pretty much every learner likes to have for successfully achieving a milestone? Something to commemorate it by – be it a report showing off the grades, a medal, or a certificate.
Well, much like in college, your achievements on online learning platforms are often rewarded with certificates. Some platforms – particularly those that work directly with higher education institutions – may even offer accredited certifications. Others might not be this fancy, but nonetheless something you can add to your LinkedIn account as proof of experience and knowledge.
So what is the case if you're a Codecademy or DataCamp learner? Do your certificates hold value?
Whether you're taking a DataCamp vs Codecademy Python path or a career track for business intelligence, you are eligible to earn this particular reward once you've successfully completed all tasks and checked off all lessons. So, points for both!
Let's look at the certifications of each platform more in-depth.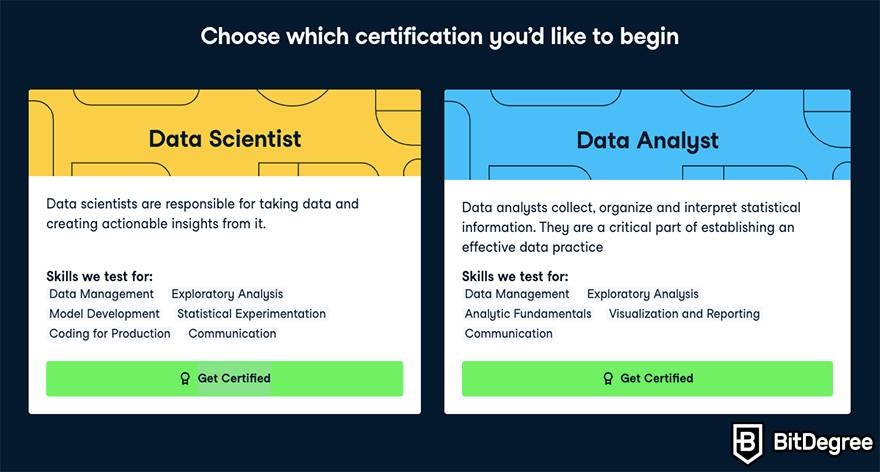 When it comes to DataCamp, there are two terms you need to tell apart – certificate and certification. It might sound odd, but allow me to elaborate.
A certificate is what you receive for completing any course on DataCamp. Introduction to Python, Data Science for Business, doesn't matter. If it's done and you passed, you'll find a certificate attached to your profile.
Certifications, though, are a different beast altogether. You only earn certifications by completing professional training programs. These are long-term learning paths that aim to provide you with industry-level skills in one of two fields – data science and data analysis.
Since professional training programs are a longer commitment that requires assessments, the rewards also function differently. For starters, the certification is proof that you passed an exam that would match an industry standard. Secondly, to prove that your knowledge and skills are up-to-date, you must renew your certification every two years. Those are not abilities that you want to decay.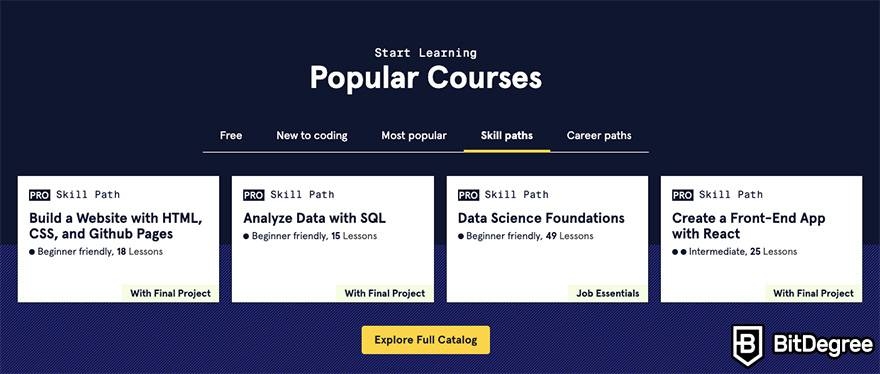 Codecademy grants Certificates of Completion to all users that successfully finish either a course or a path. As stated in the Codecademy Help Center, some paths may not grant a certificate upon completion, so double-check it before you sign up.
To earn the certificate, your Codecademy course (or path) must be 100% completed – this means that you must tick off every lesson, quiz, and assessment. If you want to cease your Codecademy Pro membership, don't worry – your certificates will not disappear from your profile.
Bear in mind that neither platform offers accredited certificates as they are not directly affiliated with universities or colleges that would provide such credentials. Instead, both platforms are career-oriented, so the certificates will act as proof of professional development.
This is something I'll touch upon a bit more in the next section, but if you want to earn a certificate, you must be a paid user, regardless of the platform. So, to receive it on Codecademy, you need at least a Pro Lite account. Likewise, you'll need the Premium account on DataCamp.
The certifications have been established to act as proof of your coding achievements. So, whether you're learning on DataCamp vs Codecademy for data science, you will have solid proof that you know what you're talking about once you're done and start hunting down your first job.

Pros
Simplistic design (no unnecessary information)
High-quality courses (even the free ones)
Variety of features
Main Features
Nanodegree programs
Suitable for enterprises
Paid certificates of completion

Pros
Huge variety of courses
Easy to navigate
No technical issues
Main Features
Huge variety of courses
30-day refund policy
Free certificates of completion

Pros
Easy to use with a learn-by-doing approach
Offers quality content
Gamified in-browser coding experience
Main Features
Free certificates of completion
Focused on data science skills
Flexible learning timetable
Pricing
Our last DataCamp vs Codecademy comparison has to do with the costs of each platform. Education can be pricey, so you want to make sure you get your money's worth. So, take everything we've covered so far into consideration and let's have an overview of how much both services cost.
First, let's cover some options if you're on a tighter budget. Can you take any courses on DataCamp or Codecademy for free? Yes! Both platforms offer access to free content as well as downloadable resources.
On Codecademy, you'll be registered as a free user by default. All courses fall under one of two categories – Free and Pro. There's a good range of free courses available in the catalog, so you can get your basics set in place.
Free users can access various resources to aid their learning, such as informational videos, cheat sheets, and code documents. You'll also be eligible to access full community support and get in touch with fellow students. Keep in mind that while free users can study on the mobile app, some features may be limited.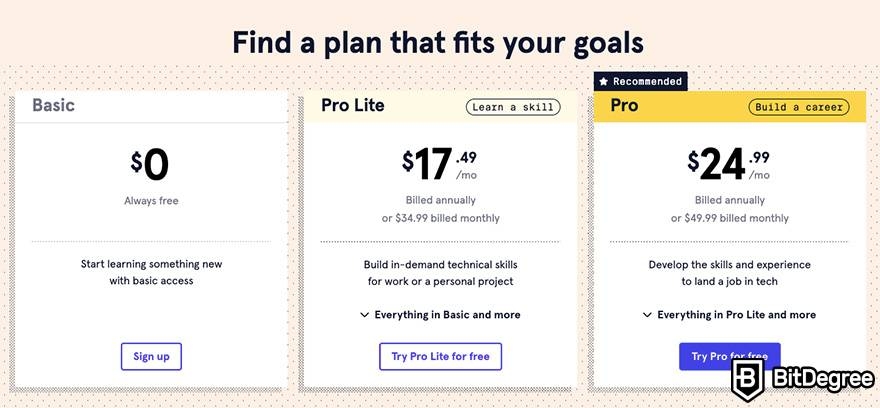 It's a similar situation on DataCamp vs Codecademy. Free DataCamp users can have access to six courses completely for free. They cover the basics of data science, as well as Python, R, and SQL programming. Additionally, you can check out the first chapter of every single course in the catalog for free.
DataCamp is a career-driven platform, aiming to prepare new data scientists and analysts who are ready to enter the market. So, you'll be happy to hear that all DataCamp users – whether they're paid or not – have full access to the professional profile and job board services. So, you can start looking for your next job while you're still learning.
Now, let's take a closer look at what the user payment plans are on Codecademy vs DataCamp.
Codecademy pricings are different for three user groups – individuals, students, and teams. From here, they branch out further. Individual users can choose from one of the three plans:
Basic (free)
Pro Lite (from $17/month)
Pro (from $24.99/month)
You're already familiar with the perks of the free plan. But what sets Pro and Pro Lite apart? For starters, both plans offer you full access to the Codecademy course catalog, community support, as well as personalized practice tools, quizzes, and assessments. You'll be able to join the skill paths and work on projects that are based on real-world data.
However, the key difference that sets Pro Lite and Pro apart is the career path access. Only Pro users are able to access the career paths and join active social groups with other career learners. You'll also have resources to prepare for your technical interviews.
For students, Codecademy offers the Pro Student plan at $149.99 per year. With this plan, they have access to all the perks of the Pro plan, like the skill and career paths, as well as projects. However, you can also find the chapter of your local university and join the digital learning community.
The Teams plans offer interactive training services for various group sizes. The costs start at $299 annually. However, large-scale teams may be eligible for custom quotes based on their requirements.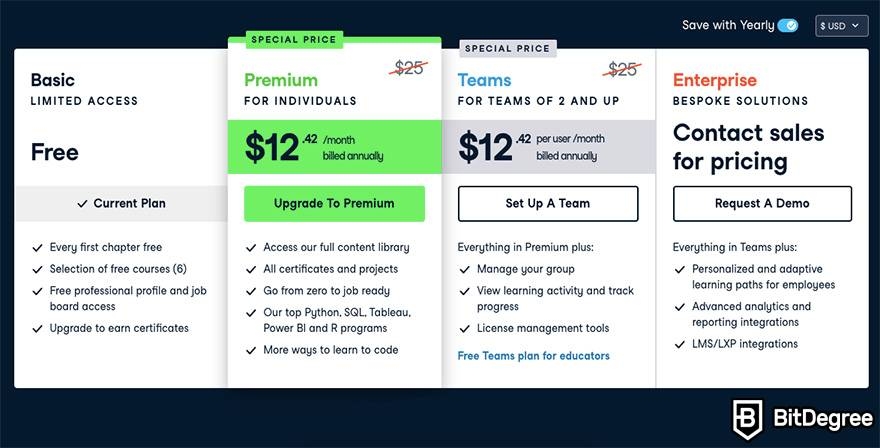 Now, let's get back to DataCamp. For its users, DataCamp offers three different individual and team plans, as well as custom prices for larger groups:
Basic (free)
Premium (from $25/month)
Teams (from $25/month per user)
Enterprise (personalized)
We've just covered the Basic plan perks. However, before we move on to the other plans, there's one thing to keep in mind. If you keep a free DataCamp account, you won't be eligible to earn certificates after finishing your courses. So, while your skills will still be available to you, you won't earn the perks that we discussed above.
Premium is the main paid option for individual users. And trust me when I tell you that it offers a lot of benefits – the full course catalog, all interactive real-life projects, competitions, skill assessments, professional profiles. We could go on all day. Essentially, if it's not an exclusive enterprise feature, Premium more than likely has it.
Teams is a plan that's optimized for smaller learner groups. Let's say you want to learn along with your buddy. Perhaps you're both working on the same project and want to solidify your skills. The Teams plan also offers a branch known as DataCamp Classrooms.
DataCamp Classrooms is a special program that has been optimized for teaching programming at schools. Thanks to this plan, teachers can gain free access to all courses and projects, as well as assessments that can be used to evaluate students in class.
Finally, the Enterprise plan is a custom solution for large-scale teams. It offers additional team management tools, such as license management, customizable reporting templates, and various integrations. To accommodate the needs of your team, DataCamp prepares a customized quote for each Enterprise booking.
As far as the price range is concerned, the platforms are very similar. As you can see when comparing Codecademy vs DataCamp, both platforms offer a broad range of paid services, with some free perks available for students on a budget. Additionally, DataCamp offers its users discounts and special offers that you can find here.
So, take into consideration what your needs are and what the platforms offer to find the better choice for you.
Conclusions
Our DataCamp vs Codecademy face-off has reached its end. So, let's quickly recap what we've found out about the two platforms today.
Whether you're more interested in Codecademy or DataCamp data science courses, you can be assured that the content is high-quality, well-reviewed, and taught by industry experts. While the certificates you earn for completing your studies are not officially accredited, they are recognized in the industry as reputable proof of programming skills.
The platforms are easy for beginners to navigate and cater to every learner level. You can even find more niche courses to delve deeper into specific programming skills, or take part in projects that use real-life examples to help you earn better insights into what data science work is really like.
While both platforms fall short in terms of foreign language support, they're very mobile-friendly, so you can learn wherever you are – as long as you have an internet connection. You can even take some of the courses for free. But if you want a well-rounded learning experience, it's going to be a worthwhile investment.
Now that you have a better understanding of how these two learning platforms work, you can finally make the big DataCamp vs Codecademy decision. Perhaps you might decide to try out both first? Let us know your opinion about which platform is better in the comments below.
Good luck on your journey toward the world of data science!
Leave your honest feedback
Leave your genuine opinion & help thousands of people to choose the best online learning platform. All feedback, either positive or negative, are accepted as long as they're honest. We do not publish biased feedback or spam. So if you want to share your experience, opinion or give advice - the scene is yours!